Community Outreach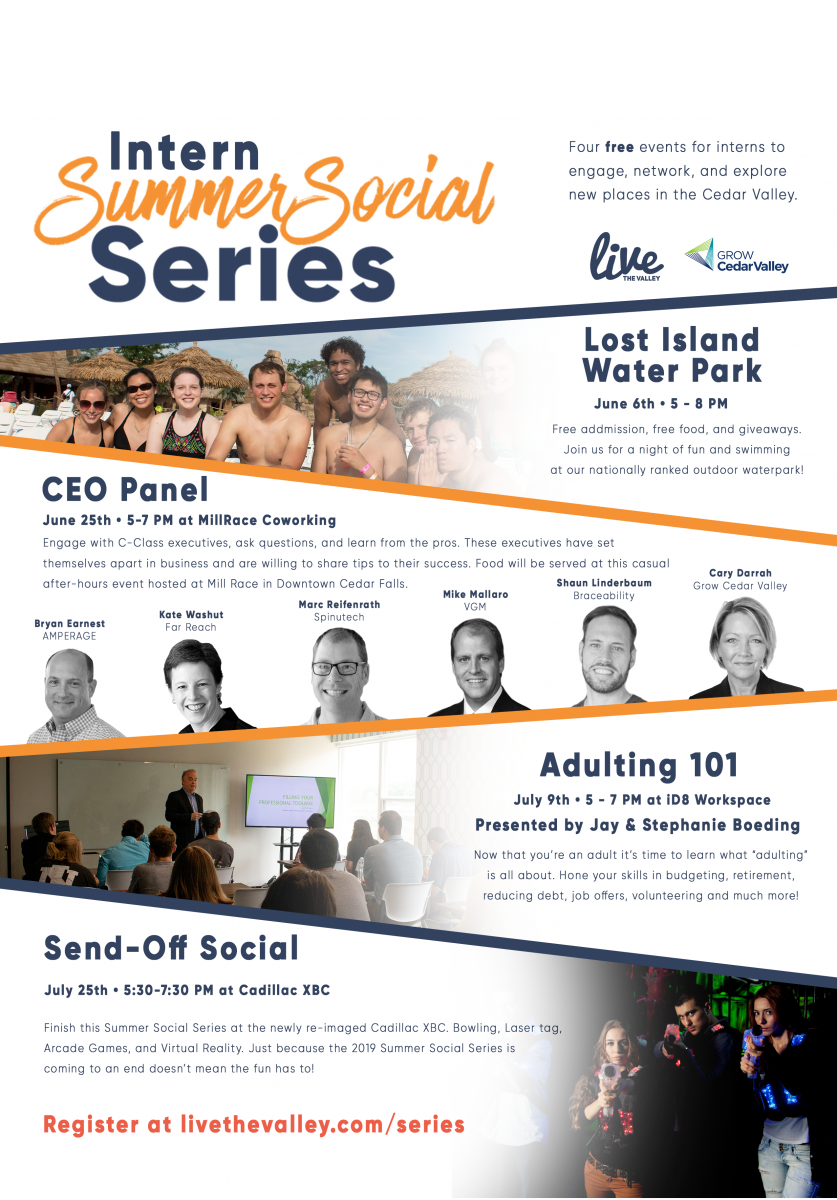 Intern Summer Social Series: Do you have interns or students working for your business over the summer? Live the Valley and Grow Cedar Valley are jointly hosting four free events for college student employees and interns. The kickoff event will be a night at Lost Island Waterpark on June 6th, featuring a few hours of pool access and a delicious meal. We are really excited about the events for this summer; exploring some of the best places the Cedar Valley has to offer. Make sure to mark the day of the events and when registration opens. The events fill fast. Over 180 interns attended last years' events.
https://livethevalley.com/series/
Live the Valley Job Board: The Live the Valley Job Board is collective job board that is fed by the economic development organizations' job boards in the Cedar Valley region, including Grow Cedar Valley. It on average holds 270 jobs in dozens of industries. This job board is promoted on Social Media, having reached almost one million people across the country. The new positions are also shared through a weekly job updates newsletter, engaging with 350+ job seekers, with more signing up every day. This newsletter was created around the beginning of the year and has a 50% open rate and a 70% click rate.
Post your jobs today! https://livethevalley.com/job-board/
CVSHRM is proud to be a part of such a strong community. In support of our mission, we support and promote community organizations, outreach, and events in the Cedar Valley. See below for upcoming opportunities for community outreach.
SHRM is leading the national effort to elevate the HR profession and empower leaders to shape healthy, inclusive workplace environments. As you heard from SHRM President and CEO, Johnny C. Taylor, Jr., the "Getting Talent Back to Work" national initiative has been launched.
This initiative champions the hiring of individuals with criminal records, an untapped talent pool that has traditionally been shut out of the labor market. This initiative calls on business executives and association leaders to pledge to consider qualified individuals for job opportunities regardless of their criminal records, giving those that deserve it—a second chance. Already, over 450 business and industry leaders representing a variety of organizations have publicly signed on to the pledge, including the National Restaurant Association, the National Retail Federation, the National Staffing Association and the U.S. Chamber of Commerce, to name a few.
The pledge follows from our work on the bipartisan First Step Act, which was signed into law in December, and improves re-entry opportunities for thousands of incarcerated men and women.
At a time when unemployment is at a record low, and businesses are experiencing a human capital crisis, we can't afford to continue shutting out this untapped pool of qualified people.
How can you help?
As an HR professional, we encourage you to personally take the pledge too!
Cedar Valley Inclusion Toolkit
The Inclusion Toolkit is an online collection of resources that can help your business develop or improve economic inclusion practices.
Check it out here:
cedarvalleyalliance.com\toolkit